Please Read Carefully as our policy has changed!!!
Effective June 13th, 2014:
"Free Shippping" for purchases over $300.00 USD within the Continental U.S. This offer excludes track, transformers, ready to run sets, standard gauge tinplate and oversized containers. Oversized packages will instead receive a $20.00 USD credit towards the cost of shipping. Oversized containers are defined as packages larger than 5,000 cubic inches.

Free shipping will not be reflected in your shopping cart. All credit card orders are processed by hand (not by the website) and all discounts will be applied then. PayPal orders will have the shipping charge refunded when we retrieve payment from PayPal.

All other shipments will be charged the actual published cost of shipping from UPS at our discounted rate for the Continental United States. There are no additional handling charges. Please note that shipping charges provided by the website are estimate only. The actual shipping charge will be added to your total when your order ships.
You can use the map below to estimate your shipping time for the continental US. Note this is not always accurate. But a great guide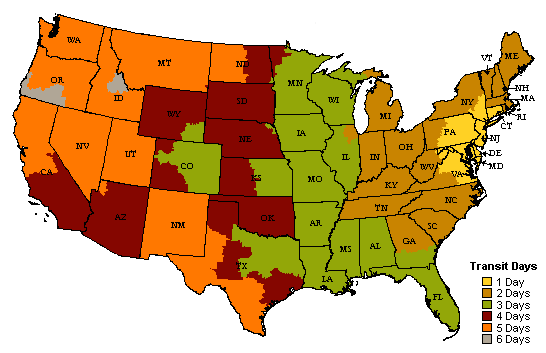 Any commitments or pre-orders made prior to Febraury 1st, 2013 will be honored under the previous shipping policy.
International Shipping
Just Trains will ship internationally under the following conditions:
We reserve the right to refuse to process any order or to refuse to ship to certain countries.
Processing of international orders takes longer. Please allow time for us to pack and weigh your order and estimate the postage & handling cost. We will e-mail this information to you before your order is processed and shipped. We must have confirmation of acceptance of shipping costs and policies before your order is finalized.
International orders are shipped by US Postal Service International First Class Mail. Delivery for most shipments is estimated by the US Post Office at 7-10 days. Although most parcels arrive in this time frame, there can be delays due to many factors including higher volume of mail, increased security concerns and time to clear customs. There have been instances of parcels taking 3-4 weeks to arrive. Just Trains has no control over the postal services and therefore cannot and will not guarantee arrival dates or give credit for delays in shipping.
If your order does not arrive within 30 days, we can place a claim with the US Post Office for a lost parcel. Under US Postal regulations, this is the earliest we can ask for a claim inquiry. It can take an additional 30 days for the Post Office to investigate.
Customs, Duty Tax and VAT - Your parcel may be subject to a customs, duty or VAT tax. The regulations concerning whether or not your order will apply vary by country and it is the obligation of the consumer to obtain information concerning these taxes and pay them if neccessary. You can usually obtain this information by contacting your postal office or customs office. Just Trains will not falsify any information on the customs forms.
Returns
We will accept returns of unused product and unopened product for refund if notified within 7 days of receipt of the product. We will accept a return for exchange of unused product/unopened product within 15 days of receipt of the product(store credit). You must notify us in advance of your return and receive a return authorization number. We must receive the product back within 10 days of notification of intent to return. It must arrive at the store undamaged and in the same condition as shipped. This means no tags removed or damage to special packaging such as collectible boxes. Refunds will be credited back to the card used to purchase the item. We do not refund shipping. Returns sent without an authorization are subject up to a 20% restocking fee.
Damaged Goods
If goods are damaged during shipment by UPS, refuse the shipment (this will send the package back to Just Trains) or save the item, the box and all packing material. Notify us and we will place a claim with UPS. UPS insures all shipments and so far has made good on them. You may have to allow a UPS representative access to inspect the damaged merchandise and packaging before an adjustment can be made. We will replace the product at the carrier's expense. If you request that we use the US postal service and decline insurance to save on shipping cost, any adjustment for damage will be between you and the post office.
Canceling Orders
We take pride in prompt shipping and most orders are shipped the morning following our receipt of the request. Orders received on Friday or over the weekend will in most cases be shipped the following Monday. If you decide you do not want what you ordered, it is imperative that contact us immediately. Once we ship/order the item you may return it under the conditions stated above, but we will not refund the shipping cost.